An Official SF Beer Week Event!
Saturday, February 9th, 2019 | 2pm-6pm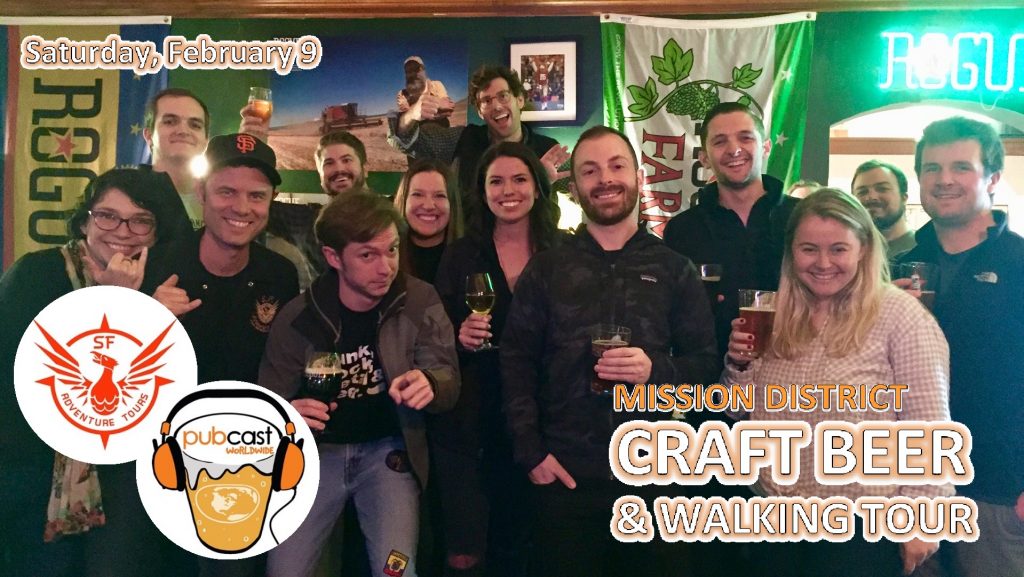 Paintings, Pints, and Promiscuity… these are just a handful of the words that depict San Francisco's historic Mission District.
As SF Beer Week draws to a close, come explore one of The City's most colorful neighborhoods (full of equally colorful craft beer!) on a curated walking tour with 2 of San Francisco's finest tour guides!
Eric Schaefer (The Hoptimist) is a Certified Cicerone® and has organized beer tasting tours through his company SF Adventure Tours for three years. Chris Luecke (Pubcast Worldwide) is the host of a global beer podcast that has explored the details of beer across 7 countries in 2 years, and spends his time in San Francisco leading craft beer walking tours for SF on Tap.
We will "rendezbrew" at Zeitgeist at 2pm to depart for our tour, visiting a mix of breweries and beer bars along the way, including:
• The Crafty Fox
• Standard Deviant Brewing
• Southpaw BBQ
In between, we'll be exploring the history and heritage of the Mission District, visiting and sharing stories about the Mission's cultural roots, mural-clad Clarion Alley, and the infamous Armory just to name a few.
So step to it, and end SF Beer Week with a craft beer walking tour you won't find anywhere else in San Francisco! Light snacks at 2 of the locations are provided in the tour price. Please avoid consuming too much alcohol before the tour and eat some lunch beforehand as well.
Includes:
-Three flights of four 5-oz pours at each of the 3 stops
-Private brewery facility tour
-A hands-on beer education of 10+ traditional and new-age styles of beer
-Light snacks at The Crafty Fox and Southpaw BBQ
-A guided walking tour of the Mission District's lesser-known landmarks and hidden history
Brewery and bar itinerary subject to change depending on availability. Brewery facility tour(s) subject to availability.
About The Hoptimist: Eric Schaefer is a Certified Cicerone® and beer lover that does beer education and celebration events around the San Francisco Bay Area. He is an avid homebrewer and organized beer tasting tours through his company SF Adventure Tours for three years.
About Pubcast Worldwide: Run by Chris Luecke, Pubcast Worldwide is the podcast where you get to know interesting people around the world, chatting with them over beers, cocktails, and other libations at the coolest pubs, bars, and breweries on the planet. Past episodes have included interviews with Untappd Co-Founders Tim Mather & Greg Avola, Three Sheets host Zane Lamprey, and brewers spanning from the streets of London to the beaches of Sydney (and everywhere in between).