Podcast: Play in new window | Download
Subscribe: Apple Podcasts | Google Podcasts | Spotify | Stitcher | TuneIn | RSS
Eric Schaefer is the founder, owner, and chief tour guide of SF Adventure Tours, a San Francisco-based tour company that runs a variety of custom tours that are "reflective of the passengers on board." In this episode, he discusses his career in the tourism industry, while giving us an unfiltered overview of the eclectic, gritty, and ever-changing city of San Francisco. As an expert in Bay Area craft beer, Eric is guaranteed to make you thirsty with his description of the groovy beers we consumed at Harmonic Brewing, a newcomer to the San Francisco brewery scene.
Drinking Destination: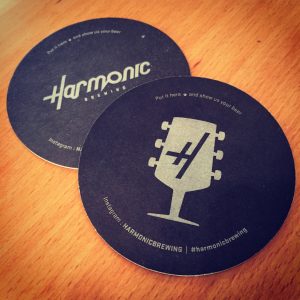 Located in San Francisco's Dogpatch neighborhood – Harmonic Brewing has an industrial chic that matches the neighborhood's former manufacturing and meatpacking roots. Founders Eddie , Jon, and Eric knew one anther through beer and music, and founded the brewery in 2015, featuring a lineup of beers that – like a good rock tune – combine flavors that are in harmony with one another.
Coaster Notes:
SF Adventure Tours focuses on what's best in San Francisco that day. From the main sites like the Golden Gate Bridge, to city's old pubs on a cool, foggy day. Much like the Phoenix – SF Adventure Tour's logo and the bird on the flag of the city of San Francisco – the city of San Francisco is constantly being reborn.
After an initial ambition of working in publishing – like any good story in San Francisco – Eric's career as a tour guide began after responding to a Craigslist ad.
Eric is a "local" – not a "native" – to San Francisco
We receive a brief "crash course" in San Francisco's many neighborhoods ("Describe the Sunset"…"Not the sun…anything but the sun")
Suspension bridges and the TransAmerica Pyramid (or, "the Devil's spike that rose from hell!" according to Beat legend Lawrence Ferlinghetti) define the San Francisco skyline
There's a dark side to the change in San Francisco, but beyond that, people need to embrace that San Francisco's only constant is change. How can you effect the change positively and get involved?
Don't just be a man-child! Get to know your neighbors.
We didn't drink Four Loko, but we talked about it. It may or may not be the basis for the craziest tour Eric ever hosted (shocker…)
Folsom Street Fair…not for the faint of heart. Side-note: nudity is technically banned in the city of San Francisco (though you wouldn't know by taking a look around some of SF's most prominent street fairs)
The Sisters of Perpetual Indulgence…look them up for yourself.
Volunteer! San Francisco has a strong history of volunteerism, and that might be the "grittiest" way every generation in SF can get involved in their community.
Look out for Eric's upcoming beer & food tours.
Drinks of the Show:
Yonder Wall Wit – Belgian-style Wit with cirtus peal and coriander. Eric their brewer would describe it as "crushable, something to down after going for a run"…it's way better than Blue Moon

Marasca Ale – A balanced English ale with a hint of the cherry, or as Eric describes it: "This beer is one that I feel really sorry for the podcast listener's on, because the color as you'll notice is a distinct bright-red-jewel-like cherry red…or amber…and before you think we're all girly in San Francisco and put fruit in all of our beers, it's a really balanced bitter cherry."
The Juice – This is a kettle sour, which means the souring bacteria – called lactobacilis – is added to the mash prior to the boil phase of brewing process. It was my personal favorite of the day.
Eric's Favorite Bars & Breweries in the Dogpatch:
Connect/Drink with Eric:
Check out AdventureInSF.com or just Google "SF Adventure Tours." You can find them on Instagram at @SFAdventureTours. You can also find Eric in real life roaming around his neighborhood in St. Mary's Park, swimming at the Dolphin Club, or at an SF City FC soccer game.
Visit Harmonic Brewing:
Harmonic Brewing is located at 1050 26th St. San Francisco, CA 94107. Taproom hours are Wednesday 4-10pm, Thursday 3-11pm, Friday 3-11pm, Saturday 12-11pm, and Sunday 1-7pm.