Podcast: Play in new window | Download
Subscribe: Apple Podcasts | Google Podcasts | Spotify | Stitcher | TuneIn | RSS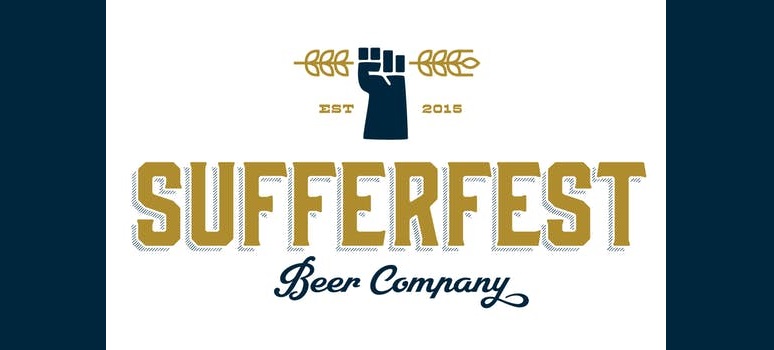 Caitlin Landesberg has always identified as an athlete. Now, as the Founder, CEO, and Brewmaster at Sufferfest Beer Company, she's just as much of a rockstar brewer as she is a runner.
Sufferfest is a San Francisco-based beer company for athletes, by athletes, providing a gluten-removed beer that all can enjoy at the end of a workout or adventure. When Caitlin found out that she was gluten intolerant and eliminated it from her diet, post-race beers were also eliminated as well. Realizing that there were few good gluten-free beers on the market, Caitlin made her own, and Sufferfest Beer Company was soon born. In this episode, Caitlin and Chris sample all 3 of Sufferfest's brews while discussing the origins of the company, the importance of a post-adventure beer, and of course some drinking stories from Caitlin, all of which seem to involve running.
Sessions is the destination for today's show, a craft beer and craft food oasis in the middle of San Francisco's forested Presidio.
Drinking Destination:
Sessions is located in one of San Francisco's most beautiful areas: The Presidio. This forested area is run by the U.S. National Park Service, and it best utilized for a walk, a job, a round of golf, or…traveling through to get to the Golden Gate Bridge!
As such, Sessions is a great little getaway within this lovely area, serving up craft beer, craft cocktails, and craft food. It's a perfect post-workout destination to reward yourself after taking advantage of the park's trails.
Coaster Notes:
Caitlin started the sales effort at Sufferfest by going door-to-door with their pilot batch of beers (cans of Epic Pilsner), and Sessions was one of their first accounts to sign-on with Sufferfest.
Caitlin describes Sufferfest Beer Company as "a happy accident," and has always identified herself as being an athlete. She fell in love with trail running while working as the VP of Marketing at Strava.
When Caitlin discovered that she had an intolerance to gluten after exiting a Ragnar race for a trip to the hospital, Caitlin had to remove beer from her diet as well. Dissatisfied with the other mediocre gluten-free beers on the market, Caitlin made it her mission to develop a gluten-removed be that was delicious and could be enjoyed by anyone following a tough workout.
Sufferfest gets its name from the trials that anyone endures during a "sufferfest," whether that's finishing a race, talking about a gash from a wipeout, or – in Caitlin's case – the ups and downs of starting a beer company.
"A day is not complete without a really good war story." –Caitlin Landesberg
In the early days of Sufferfest, Caitlin took a scrappy approach to getting her beer a spot at the finish line of races at Stinson Beach…listen for the full story!
Each of Sufferfest's 3 beers have an associated story. Caitlin gives us the scoop to kick off the 2nd half of the show, but check out the "Drinks of the Show" section below for the tale behind each beer.
As we enter the "Tipsy Talk," Caitlin tells us the story of the "Beer Mile" at Kenyon College in middle-of-nowhere Ohio.
Runners are the best drinkers according to Caitlin, and she is in no way biased J
Caitlin would grab a drink with Barak Obama (not the first time we've heard this on the show) and they would "chill the AF out." If Caitlin could drink with an athlete, it would be North Face runner Timothy Allen Olson.
Caitlin's drunk superpower…it was difficult enough to describe on the podcast. Just listen…
Sufferfest continues to expand their presence at on-premise accounts like Sessions, and while you can still find them in cans, they recently started their draft program.
Drinks of the Show:
Epic Pilsner – now "Flyby Pilsner" – Originally brewed for Caitlin's wedding, this was the first beer that Sufferfest brewed, and – like all of their beverages – it's the refreshing reward that's waiting for you at the end of a race.
Summit Blonde – now "Shakeout Blonde" – Continuing the "love affair" that is Sufferfest Beer Company, the Summit was inspired by Caitlin's pregnancy. A 5.7% ABV blonde that is both tropical and hop-forward. This is the beer you want waiting for you in a cooler in the parking lot after a really hot day, or lots of climbs. As such, it's a "goal-oriented" beer.
Taper IPA – Sufferfest's 7.5% ABV IPA that's built for a rest day. Every athlete needs a day off to recover, and the appropriately-named Taper was brewed just for that. Pairs well with a camping trip or a walk through the forest.
A few of Caitlin's Favorite Spots that serve Sufferfest:
Connect/Drink with Sufferfest:
Find Sufferfest at @sufferfestbeer on Instagram, and make sure to use the hashtag #SufferShot in all of your athletic/adventure photos to show them how you're earning your beer! Don't forget to use #WillSweatForBeer either…
Visit Sessions in the Presidio:
Sessions is located at 1 Letterman Dr #150, San Francisco, CA 94129. Bar hours are 11:30am-9pm Tuesday through Thursday, Fridays 11:30am-10pm, Saturdays and 11am-10pm, and Sundays 11am-9pm. Closed Monday.
Music Credits:
"The 30 Rack Anthem" by Love Me Electric. Check them out on Spotify.