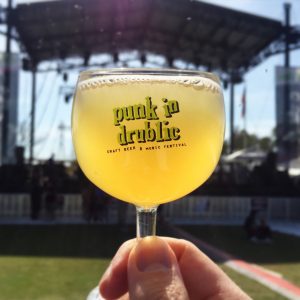 It shouldn't come as a surprise that beer and music are a match-made in heaven. For decades, people have been drinking some suds while listening to their favorite tunes at arenas, clubs, and otherwise. But, where corporate beer sponsorships and gallons upon gallons of Bud Light used to be the norm, the times they are a changin'…
I recently had the opportunity to attend the Punk In Drublic Craft Beer & Music Festival in Sacramento, CA, a short punk music tour covering the West Coast of the U.S. this fall. Hosted by NOFX's Fat Mike and put on by Brew Ha Ha Productions – an Orange County-based craft beer events outfit – Punk In Drublic almost seems like it's becoming the new norm for music fests.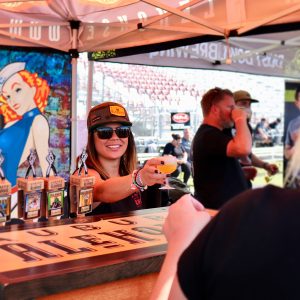 Featuring a powerhouse list of punk bands from the past 2+ decades (Flogging Molly, Goldfinger, Less Than Jake, etc.), and a lineup of 30+ of the most popular local craft breweries, Punk In Drublic was essentially 2 events in 1. Following a similar formula to other beer and music festivals like St. Louis' MOJO Fest or Oskar Blues' Burning Can in North Carolina, the event started at noon, with 4 hours of craft beer tasting as part of the ticket. While a few opening bands got the show going during that time, once 4pm hit, the tasting transitioned to moshing as the headliners took stage, and the craft beer festival quickly took the shape of a good ol' fashioned punk rock show. Not a bad deal for $40 a ticket (which, quite frankly, is less than most craft beer festivals by themselves).
It's probably not too difficult to speculate why these events are starting to pop up here at the midpoint of the 2010s; punk fan bases are getting older, electronic music is front-and-center, and craft beer continues to explode in popularity. Music festivals themselves have exploded, and they're the new way for the masses to consume live music. However, indie rock superstars and the newest DJs are the big draw for high-priced festivals like Coachella and Lollapalooza.
Niche festivals like Punk In Drublic are a different animal though. Personally, I'm a life-long punk rock fan, but I'm no longer the 16-year-old kid seeing my favorite bands at all-ages shows. For many folks that might consider going to a NOFX concert for the "nostalgia trip" factor, adding tents full of craft beer is a great draw for many ex-punk rockers in their 30's or 40's that might have been on-the-fence about attending.
Whether you now need a craft lager or not to enjoy a throwback music festival is a conversation that belongs in the rabbit hole of punk rock relevancy discussions, but one thing's for sure: craft beer & music festivals are the new normal, and we're only seeing more of them pop up. Brew Ha Ha Productions is on to its 2nd annual Ye Scallywag Festival in San Diego, with plans to expand Punk In Drublic and their Sabroso Craft Beer, Taco, & Music Festival in 2018. More to come, but in the meantime, grab a beer, I'll see you in the pit!