Podcast: Play in new window | Download
Subscribe: Apple Podcasts | Google Podcasts | Spotify | Stitcher | TuneIn | RSS
We're wrapping up our first international series with an episode in Prague, Czech Republic, a picturesque Central European city with a reputation for world-class nightlife, and beer that costs less than water! But while you're undoubtedly familiar with Pilsner Urquell and other Czech lagers and pilsners, there's a much deeper food & beverage scene that you might not know about…
Jan Macuch is a software-designer-turned-tour-guide that gets #PaidToDrinkBeer. He leads Prague's food & beer tours for Eating Europe, and he definitely knows his way around the craft beer, cocktails, and food in his home country. After growing up in the former Czechoslovakia while it was still under Communist rule, Jan has seen first-hand how the culture and culinary scene in the Czech Republic have evolved, turning Prague into the dynamic food & drinking city that it is today. Jan's stories fill this episode with an incredible "cultural experience for your ears" from start to finish, and will certainly have you craving some Central European fare by the end of the show.
We met up at Bonvivant's CTC, a cocktail bar in the Old Town that also doubles as a tapas joint and café. No need for a drink menu here…the folks at Bonvivant's fix you a drink based on your flavor preferences and how you're feeling that day, and they certainly don't disappoint.
Drinking Destination: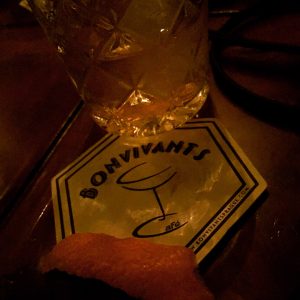 Located along Bartolomějská on the edge of the Old Town, if you tell people in Prague you're going to this area, they know you're going out for a good drink. Standing for "cocktail, tapas, café," this place covers a few categories, but is undoubtedly a cocktail bar.
Paying homage to the 1920's New York cocktail bars of old, this place will fix you drinks based on your drink preferences and how you're feeling that day. The bartenders not only talk to you, but they are proud to put the extra care into crafting you the perfect cocktail.
Coaster Notes:
"Na zdravi" is how you say "Cheers!" in Czech. Jan offers tips on how to remember this when you're drunk…
Due to Communist rule in the former Czechoslovakia until 1989, for many years cocktail culture in the country was practically non-existent. Jan discusses how cocktail culture started to develop in Prague about 10 years ago, including shoutouts to some mainstays like Bugsy's, Hemingway's, Black Angel's Bar, and Anonymous Bar.
Despite it's swanky appearance, Bonvivant's has a very punk, DIY vibe: forget the business plan, open a bar, and just make great drinks.
We discuss a number of the influencers in the food & drink scene in Prague, and give a shoutout to a mutual favorite butcher shop & restaurant of ours, Maso a kobliha.
The ol' "vacuum cleaning during the hangover" trick is how Czech parents teach their children why it's important to drink responsibly…
We open Round 2 by discussing the recent Czech craft beer boom, evolving from a beer culture that was largely and historically based around lagers and pilsners. Now there are over 360 craft breweries based in the Czech Republic. Jan sees an upcoming shift from mimicking American-style craft beer to mimicking more Belgian styles, saisons, and sours.
Jan has spent time working in everything from software development in the U.S. to food tourism. After doing food reviews for a local Czech paper and writing about "Eating Europe," Jan was hired to lead their Prague tours, which he is doing part-time during his 4-year parental leave. #PaidToDrinkBeer
Jan's drinking story involves a history lesson: in the spirit of Danish astronomer Tycho Brahe's bladder-bursting fate, Czech teenagers now compete for the "Golden Medal of Tycho Brahe" through a marathon-style drinking game…
In addition to recommending a number of other great cocktail bars around Prague, Jan recommends spending a week in the Czech Republic in general, to "Czech" out (see what I did there?) other cities like Brno – which has a burgeoning food & beverage scene – as well as all the picturesque small towns (with breweries!) within 1-hour driving distance of Prague.
Jan wraps up our episode by sharing a story about drinking Coca-Cola under Communist rule, and closes it out the recent rise of Czech wine.
Drinks of the Show:
Old Fashioned – In this episode, I start off with a smoky take on this classic cocktail
Becherovka – A liqueur that Jan says can only be described as "liquid Christmas," I enjoyed this Czech herbal liqueur during Round 2 as the base liqueur of a whiskey sour variation, egg white and all
Jan's Favorite Cocktail Bars in Prague:
Resources for When You're Sober:
Eating Europe Beer & Food Tours – Eating Europe runs daytime food tours and beer tours, and recently started offering a night tour more laid back and has more drinks. In addition to Prague, tours are offered in Rome, Florence, London, and Amsterdam.
Connect/Drink with Jan:
Follow Eating Europe on Instagram at @eatingeurope. Link to their website is EatingEuropeTours.com.
Visit Bonvivant's:
Bonvivant's CTC is located at Bartolomějská 3, 110 00 Staré Město, Czechia (in the Old Town of Prague). Bar hours are 2pm to 1am daily.
Music Credits:
"Drinkage" by Useless ID. Check them out at UselessID.net.