Podcast: Play in new window | Download
Subscribe: Apple Podcasts | Google Podcasts | Spotify | Stitcher | TuneIn | RSS
Travis Sherry is a "Professional Traveler," and that title really does cover about as many categories as you might expect. From his travel podcast Extra Pack of Peanuts to his new app Jetto for finding flight deals (and just about everything in between), Travis has made a name for himself as a travel hacking expert and internet entrepreneur.
Yet despite his location independent status, Travis calls Philadelphia home, and that's where we met up for today's episode.
Being as big a fan of beer as I am, Travis and I "rendezbrewed" at Love City Brewing just north of Philly's Center City. We cover everything from airline travel hacks to drinking Eastern European moonshine in Montenegro, and as a new dad, Trav even shares some tips on continuing to traveling internationally with children. But eventually all roads lead back to Philly, so make sure to tune in if you want to get a local's take on the best cheesesteaks around town.
Drinking Destination:
Located in an old rail-parts factory, Love City Brewing is in an old industrial area right outside of Philadelphia's Center City. New to the Philly beer scene in 2018, owners Kevin and Melissa Walters are quickly making a name for themselves with their balanced, "approachable" beers in a city with a rich brewing heritage.
Coaster Notes:
Travis Sherry is a "Professional Travel," meaning he has multiple revenue streams within the travel industry. But before his travel ventures, Travis was a history teacher, master's student in sports management, and an English teach in Japan with his wife Heather.
We quickly get off on a travel hacking tangent, discussing how to avoid close-in booking fees on United Airlines when booking reward travel (a hack Trav and I both recently cashed in on).
Travis shares a hard lesson about relying on affiliate links for income…
As a new father, Travis discusses how he and his wife have adapted to travel now that they are new parents. Side-note: their son was with us at the brewery.
Shoutout to the Doona Infant Car Seat Stroller that's making traveling with an infant easier for Travis and Heather.
We kick off Round 2 with an extensive drinking story involving Montenegro, "goat chez," and rakija.
Philly has lots of cool stuff, including a bagel shop that boils their bagels in beer. Take me there now!
In Philadelphia, a "City Wide" is a cheap beer with a shot of whiskey…every bar has their own version.
In the rapid fire round, Travis shares his #1 travel hack, discusses an idea for a new craft beer episode of Extra Pack of Peanuts, and imagines drinking with Ben Franklin.
Travis has some hot takes on Philly Cheesesteaks, but John's Roast Pork and Dalessandro's are a couple of his favorites
Make sure to check out Jetto, Travis' new flight booking app (details in the "Resources" section below).
Trav wraps up the episode with a verbal bar crawl of Philly. Head to Center City for cocktails, and Fish Town for the coolest vibe ("the Brooklyn of Philly").
Drinks of the Show:
Unity IPA – Love City's house West Coast-style IPA. The mutual choice for Round 1.
Eraserhood – Trav's choice for Round 2. A New England-style…excuse me, Northeast-style IPA.
Obscura Dunkel – I can't pass up on a dunkel when I see one…
Trav's Favorite Bars & Breweries in Philadelphia:
Resources for When You're Sober: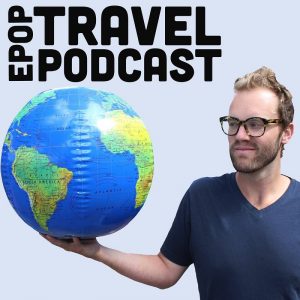 Extra Pack of Peanuts – Extra Pack of Peanuts is a podcast (the #1 travel podcast on iTunes in fact!) and travel site run by Travis and his wife Heather. "EPOP" as it's often called specializes in deals on flights, accommodations, and rental cars, plus additional tips & tricks on packing, destinations, and travel rewards credit cards.
The Paradise Pack – Every year near the start of the summer, Travis and fellow traveler Jason Moore release The Paradise Pack, a toolkit of resources the teaches you how to create an online lifestyle business. This includes books, resources, and courses from a full lineup of other location independent entrepreneurs, including previous guests of the Pubcast like Traveling Jackie and Sean Ogle.
Jetto – As flight prices fluctuate often, this app alerts you to great flight deals out of airports of your choosing. You choose the airports you're able to fly out from, and Jetto sends you a notification as soon as a deal is available from those airports.
Connect/Drink with Trav:
Travis loves his craft beer, but if you're not bumping into him at a brewery somewhere in the world, you can find him at his main website Extra Pack of Peanuts, or on Instagram, Twitter, or Facebook.
Visit Love City Brewing:
Love City Brewing is located at 1023 Hamilton St, Philadelphia, PA 19123. Taproom hours are 4pm to 12am Monday through Friday, and 12pm to 12am Saturday and Sunday.
Episode Sponsor:
Tortuga Backpacks are the makers of boutique travel backpacks that are perfect for any trip: functional enough for backpacking around Europe, classy enough for business. The Tortuga Outbreaker is my go-to pack for all of my travels. It's the max size luggage for the overhead bin so that I never need to check a bag (unless of course I'm traveling with beer!). You can hear more about their story from Co-Founder Fred Perrotta way back in Episode 2.