Podcast: Play in new window | Download
Subscribe: Apple Podcasts | Google Podcasts | Spotify | Stitcher | TuneIn | RSS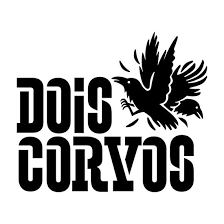 Portugal is home to some extreme craft beers. Who knew? Well, you will after this international edition of "Flight School"…
In this episode, we meet up with Scott Steffens, co-founder of Lisbon's Dois Corvos Cervejeira. After moving from Seattle to Lisbon with his wife and co-founder in 2012, Scott's West Coast palate knew there was something missing in the Portuguese beer market. After turning his homebrewing hobby into a business, fast-forward 5 years, and now Dois Corvos is the centerpiece of Lisbon's recently revitalized Marvila neighborhood, otherwise known as the unofficial "Lisbon Beer District."
Stick around as Scott takes us through a flight of 4 creative beers while giving us a history of their brewery, and a verbal walking tour of Lisbon's craft beer culture. Saúde!
Drinking Destination:
Scott Steffens and his wife Susana Cascais founded Dois Corvos in 2013 shortly after moving to Lisbon and back to Susana's home country. Since then, Dois Corvos has won multiple awards for having the best beer in Portugal, and have recently expanded their capacity to keep up with the demand.
Coaster Notes:
Dois Corvos is Portuguese for "two crows," and I can't pronounce it for the life of me
Located in the Marvila neighborhood, Dois Corvos served as a catalyst for reviving the neighborhood and turning it into the unofficial "Lisbon Beer District"
We discuss beer vs. wine in Portugal, and the locality of some of their beer ingredients which they use in their beer (including fruit from Arbutus unedo, the "strawberry tree")
We discuss where to drink in Marvila and Lisbon (see links below)
Scott shares the story of when he first arrived in Lisbon, and how he was surprised by the way that the Portuguese people responded to their beer…
Dois Corvos is expanding their capacity
Drinks of the Show:
Scott's Recommended Breweries in the Marvila neighborhood:
Oitava Colina – Meaning "8th Hill," 8a Colina is located closer toward the city closer to Alfama. While they don't have a taproom, they have a kiosk near their brewery.
Fabrica Musa – About a year old, also in the Marvila neighborhood
Cerveja Lince – Portuguese for "Lynx." No public space, but right down the way from Dois Corvos. They have a handy beer locator on their website.
Beer Bars in Lisbon:
Cerveteca Lisboa – Bottle shop and bar near Bairro Alto
Duque Brewpub – Lisbon's first brewpub and a great spot to try local beers
LisBeer – Clever…another beer bar, located in Alfama
Connect with Dois Corvos:
Connect with Dois Corvos on Facebook, Instagram, and Twitter.
Visit Dois Corvos:
Dois Corvos Cervejeira is located at R. Cap. Leitão 94, Lisboa, Portugal. Taproom hours are 2pm to 11pm Sunday through Thursday, and 2pm to 1am Friday and Saturday.
Episode Sponsor:
Tortuga Backpacks are the makers of boutique travel backpacks that are perfect for any trip: functional enough for backpacking around Europe, classy enough for business. The Tortuga Outbreaker is my go-to pack for all of my travels. It's the max size luggage for the overhead bin so that I never need to check a bag (unless of course I'm traveling with beer!). You can hear more about their story from Co-Founder Fred Perrotta way back in Episode 2.