Podcast: Play in new window | Download
Subscribe: Apple Podcasts | Google Podcasts | Spotify | Stitcher | TuneIn | RSS
Hey Thirsty Listeners, you've been asking a lot of questions about side hustles (like a Pubcast or otherwise), connecting with cool people, and building some additional revenue into your life, so, this episode was made just for you!
Nick Loper is the "Chief Side Hustler" at Side Hustle Nation and the host of The Side Hustle Show podcast. His mission is to help part-time entrepreneurs achieve more financial freedom by building additional streams of income into their lives. His podcast features guests that are doing this first-hand, ranging from the obvious (all-inclusive web design services) to the out-of-the-box (learning piano in 21 days).
I met up with Nick at Shadow Puppet Brewing in his current home of Livermore, CA to discuss side hustles, travel, and more. Over a flight, we covered various frameworks and case studies that can help you start your own side hustle today, as we mixed in our own stories of how we got into podcasting and our own extracurricular hustles.
Drinking Destination: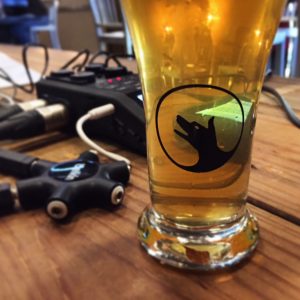 The Bay Area is big, and we venture out to the farthest reaches of the East Bay in this episode. Livermore, CA is way past more familiar spots like Oakland, but that doesn't mean it's void of its own killer beer scene!
Shadow Puppet Brewing is a relatively new player in the Livermore beer market, but their creative brews have already put them on the map. From piney IPAs to imperial reds, they've got plenty of variety to choose from.
Coaster Notes:
Despite having beer on this episode, Nick describes the Livermore wine region as a once-up-and-coming, but-now-established spot. "It's a drinkin' town!"
Nick is an experienced podcaster and hosts The Side Hustle Show As such, he kicks off our interview by flipping the questions on me and I tell my story around how I started Pubcast Worldwide.
We give shoutouts to some of our favorite podcasts and podcasters, including Entrepreneur On Fire, Hardcore History, Tropical MBA, and Smart Passive Income.
Side Hustle Nation began in 2013, which grew out from Nick's footwear comparison shopping website (inspired by an old internship in Seattle).
"The biggest myth is that once you quit your job, you're going to have all of this time." –Nick Loper
Nick has registered around 50 domains throughout his life. He has a "GoDaddy Graveyard" of unused website names.
"Choosing what's next doesn't mean choosing what's forever." –Nick Loper
Nick kicks off Round 2 with a drinking story of his brush with fame while in Prague, but, the story is ultimately about how he connect with listeners of his show from around the world.
We jam about the food scene in Nick's hometown of Seattle, including Dick's Hamburgers, Georgetown Brewing, and Pike Brewing.
The biggest misconception about side hustling is the thought that a side-hustle needs to be really outside-of-the-box.
Nick gives us an overview of 3 side-hustle frameworks:

"Scratch Your Own Itch" – Creating a business that solves a problem or addresses a need that you are also currently having
"Rip, Pivot, & Jam" – Borrowing an idea, applying it to a different industry, and growing it. Credit: Tropical MBA
"Sniper Method" – look at a large operation – like an Amazon – and pick one piece of that which you can replicate (like Nick did with his shoe business)

We discuss some of the crazier side-hustles that Nick has come across, including how to learn piano in 21 days and a super-niche Italian bread-baking empire.
Nick is continuing to double-down on his podcast, so if you want to learn more about side-hustling, make sure to tune in (links below in "Resources").
Drinks of the Show:
Nick's Favorite Bars & Breweries in Livermore:
Resources for When You're Sober:
Side Hustle Nation – In addition to the tips and tricks for generating side-income available on Nick's website, Side Hustle Nation is a growing community of hard-working entrepreneurs united by the common goal of financial freedom.
The Side Hustle Show – Nick's weekly podcast that breaks down the tried and true tactics of successful entrepreneurs.
Connect/Drink with Nick:
The best place to find Nick and all of his work is SideHustleNation.com, and make sure to tune into the Side Hustle Show podcast. Find Nick on Twitter at @nloper.
Visit Shadow Puppet Brewing:
Shadow Puppet Brewing is located at 4771 Arroyo Vista Suite B, Livermore, CA 94551. Taproom hours are Wednesday & Thursday 4 to 8pm, Friday & Saturday 12to 9pm, and Sunday 12 to 7pm.
Music Credits:
"Intoxicated" by Figure It Out. Check them out on Facebook and Twitter at @FigureItOutAZ.