Podcast: Play in new window | Download
Subscribe: Apple Podcasts | Google Podcasts | Spotify | Stitcher | TuneIn | RSS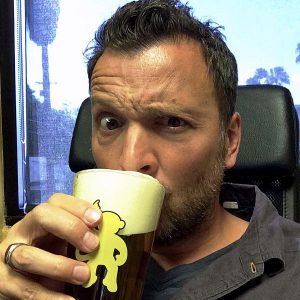 Zane Lamprey is a cult hero in the drinking & travel entertainment space. The fan base he built up in the late 2000's with his show "Three Sheets" – his first TV show where he explored drinking culture around the world – has followed him for more than a decade, and Zane has not taken his foot off the gas pedal since.
If you're just now getting to know Zane, this guy pulls triple-duty as a world traveler, comedian, and entrepreneur (and a "drink aficionado" if you want to add a fourth category). Since it's hard to put him into a single bucket, it was great chatting with Zane over a couple beers in his Los Angeles home to hear what he's been up to. Most recently, he launched his 2nd Kickstarter campaign for his outdoor brand of ADV3NTURE jackets and hoodies, and is also excited about the new format of his podcast "Zane's World," where Zane and his team explore a new city or destination via an audio conversation every week.
In this episode, Zane and I cover his story that led him through his ongoing career in television, his focus on sustainability and entrepreneurship, and – of course – travel & drinking stories across the globe! With so much ground to cover, it's a good thing we kept a solid "belch count" from start to finish…
Coaster Notes:
Zane and I kick off the show with some Ballast Point brews, as Zane tells us about the re-launch of his podcast "Zane's World" at the end of 2017, where Zane and his team discuss a new city or destination every week.
We spend the first part of the interview with Zane taking us through the story of his entertainment career, from his first major show 3 Sheets, to Drinking Made Easy, to Chug, and all of the ups-and-downs along the way.
Zane attributes his success to the many times he's failed along the way. He puts this into context with some drinking games he created that never made it into the public eye. "For every success, there are 10 failures." –Zane Lamprey
With the entertainment industry being so volatile, Zane has found ways to balance that out with his entrepreneurial pursuits, a characteristic that he also inherited from his father.
Zane shares the type of shows he would be doing if he weren't doing drinking shows.
I call out Zane's collection of Utica Club steins ("Schultz & Dooley") to kick off Round 2.
Zane is not a huge fan of IPAs courtesy of a rough experience with Greg Cook at Stone Brewing. We get into other drinking stories (where I got to pick the destination), as well as ones involving faux earthquakes and "chicken rings."
We talk travel for a bit, including a couple bucket list countries that Zane has yet to visit, as well as road trip jams.
We close with a number of rapid fire questions, covering everything from drinking with Bourdain (a common theme on this show) to Steve McKenna's beard.
Drinks of the Show:
Sea Rose Tart Cherry Wheat Ale – From Ballast Point. More importantly than the beer, Zane uses a fancy party trick to crack open the beverages, and gets things foaming early.
Sculpin IPA – Ballast Point's flagship beer, and my IPA for Round 2. A Classic.
California Kolsch – …because Zane is not a fan of IPAs (more on that later). Also, I swear this episode wasn't sponsored by Ballast Point.
Zane's Favorite Bars & Breweries in Los Angeles:
Melrose Umbrella Company – A cocktail joint in L.A.'s Melrose shopping district, with a swanky vibe that preaches how they bring it "back to basics."
Lono Hollywood – A tiki bar in Hollywood (duh!). Plus this gives me an excuse to highlight my favorite tiki bar in the world which also happens to be in Hollywood: Tiki-Ti's.
Baby Blues BBQ – A BBQ joint that Zane swears has the best BBQ in Los Angeles. The founder is from Memphis, so I'll trust him on this…
Resources for When You're Sober:
ADV3NTURE – Zane's Kickstarter is currently rolling, but whether you see this in February 2018 or not, make sure to follow the link for some of the best travel jackets around. They've got everything from hoodies to parkas to fleece jackets, and with every purchase, Zane and his team will plant 3 trees to aid in areas that have been affected by forest fires.
Zane's World – The latest podcast from Zane and his team. Every week, Zane, Steve McKenna, Hess Wesley, and Erica Elstro explore a new city while recommending the best bars and destinations to visit while you're there. Subscribe on iTunes or your podcasting platform of choice.
Connect/Drink with Zane:
Follow Zane on social media on Twitter, Instagram, and Facebook. You can even email him at zanelamprey@gmail.com.
Visit Zane's House:
No. Don't do that…unlike most of our episodes, Zane's place is in fact NOT a bar or brewery.
Music Credits:
"Last Time That I Saw You" by Patent Pending. Check them out at PatentPendingMusic.com.